How the Best Leaders Sell Their Ideas to Their Teams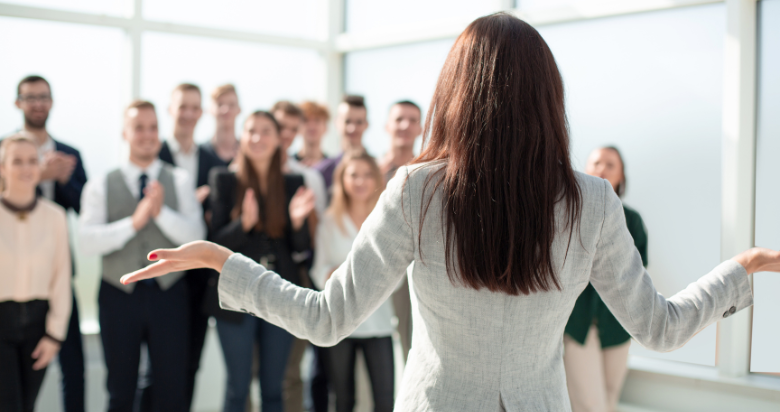 As a leader, you're tasked with making changes and coming up with innovative ideas all the time. But that's only half the battle – the other half is getting your team onboard. After all, it's natural for most people to resist change. 
Selling an idea internally is a skill most people could brush up on. Almost 80% of recently polled Americans said, "In today's world, people need to be better at selling themselves." However, 63% admit they spend less than an hour a day working on it.
Remember these critical variables when you need to convince people to get onboard with an idea or change:
Put a creative spin on it
Forbes.com uses former President John F. Kennedy as a perfect example. As powerful and influential as Kennedy was, he was still met with doubt when he spoke about getting someone on the moon to explore – yet he was able to succeed.
Why? Because his approach had three major components, Forbes reported. He offered:
a credible idea
passion about the idea, and
a "homophilous" approach with people. In other words, when people looked at Kennedy, they thought, I can relate to him. He's just like one of us.
Ask yourself if you display these characteristics the next time you meet with your team. Transform your vision into a story to help others jump aboard. Not only does it make people understand the reason behind the idea, it also helps them envision the change and impact it would directly have on them. Kennedy didn't say, I want to build a million-dollar spaceship so we can explore outer space and collect biological data. He painted a relatable picture when he said he wanted to put someone on the moon.
Calculated movements
"Successful selling isn't 'I,' it's 'we,'" says sales development firm Sandler Training's CEO Dave Mattson. "People want to be part of a solution. So include their suggestions in your idea."
What this means: Listening for 70% of the time and talking for 30% of it. When your team feels included in the decision-making process, they're more likely to be open and receptive to changes.
That's also why it's vital to pitch your ideas in person rather than email. Though it may be easier to collect your thoughts in an email, you want your team to hear your tone of voice – enthusiastic, but well-thought out and willing to dive into details. Plus, it gives you the chance to really respond to questions or concerns your team might have.
Who are you selling to?
Knowing your team is beneficial in more ways than one. Odds are you can point out who's going to be more receptive to an idea and who's going to need extra convincing.
Plan for their hesitation beforehand. Counteract resistance by asking the people who are onboard with your idea to speak up and explain why they're all for it. It'll balance out the negativity and bring a sense of understanding to the table.
Like with any big change or announcement, it might not be all smooth sailing from here. Get feedback every step of the way so you can keep your team involved and informed. And remember: What feels like change now will eventually become the new normal after some time and repetition.