Free Resources
Free Leadership Guides
Our word choices impact our credibility. But how can we teach ourselves to use the words that set us up as a rockstar vs. a rookie.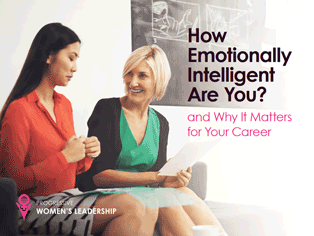 Get detailed strategies and tactics to identify and improve your emotional intelligence (EQ) to make you a better leader. Plus, learn strategies such as being able to assess your own emotional intelligence, asses it in others and use it to make better decisions.
Leadership requires decisiveness and quick thinking, but offering criticism or giving orders can create a negative impression &nsdash; especially for women. How can you project strength and order – without inspiring fear?
See All Free Leadership Guides
Podcasts
Podcast Ep. 1: Adele Abrams – Keys to Successful Mentorship
Listen to find out how mentorship not only help up-and-coming women – but the benefits to the mentor, how to respond when you are not being treated as an equal and how to respond to indirect sexual inequality in the workplace
Podcast Ep. 2: Pamela Jett – 3 Keys for Better Self-Talk During Emotionally Charged Situations
Learn key takeaways, including the importance of positive self-talk, how to balance ego, how to ensure self-talk is in present tense and overcoming cognitive dissonance.
Podcast Ep. 3: Pernille Spiers-Lopez – Leadership Skills Learned at IKEA
Listen and learn how to start and finish the work-life conversation, reframe the stories we tell ourselves to turn negative thoughts into positive thoughts and the differences between coaching and mentoring: mentorship made easy.
See All Podcasts